Common Chemicals Under Your Sink
Recently, the Huffington Post had an article that listed the Environmental Working Group's "Hall of Shame" for household cleaning products.  They point out that some products state right on their spray cans that "intentional misuse by deliberately concentrating and inhaling the contents can be harmful or fatal."  That is actually quite shocking to think that breathing an air freshener can be harmful or fatal.  We started going through all of the cleaning products under the sink of our home, especially the air fresheners, furniture polishes, carpet cleaners, bathroom cleaners and others listed by the Environmental Working Group and found similar results listed directly on the cans.  These products contain some pretty harmful chemicals and if they were used in an industrial setting would require a Material Safety Data Sheet (MSDS) and safety training classes.  And yet, these chemicals are freely available in Grocery Stores.
What you Can do
You can start with the greatest solvent in the world.  Plain Water.  Water is a great cleaning agent.  Hot water works even better.  The molecules have a lot of energy when the water is hot and it will clean effectively.  For a little added punch, here are some options:
Baking Soda
White Vinegar
Hydrogen peroxide
Borax
Essential oils, like tea tree oil, lavender oil, eucalyptus oil, or lemongrass oil
Castile soap
Fresh herbs, citrus, or citrus peels
Olive or vegetable oil
For your Office and Facilities
Chemical-Free, Dissolved-Ozone Sanitizing Spray Bottle T-SB100 Office & Facilities
While many of the green solutions listed above can be far better than hazardous and caustic chemicals, there is one solution for your office that stands head and shoulders above the rest.
'Green' Sanitizer from Water is 99.9% to 99.999% Effective, and Ready On Demand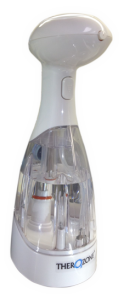 The TherOzone T- SB100 sanitizing spray bottle turns common drinking water into a powerful chemical free sanitizer –dissolved ozone–as powerful as many chemicals but without dangerous chemical fumes or residue. If you really want to go green, this is the ticket.  The environmentally friendly, truly 'green' solution sanitizes and disinfects to protect against many common pathogens on surfaces. And it's effective against organic odors.
The electrolytic cell, based on the proprietary Active Diamond Electrolytic Process Technology (ADEPT™), runs on batteries and creates dissolved ozone on demand from the water itself. Unlike other approaches, there is sanitizing power throughout use and there is no need to wonder if the active ingredient has expired. There are no special salt tablets or chemicals to inventory, and no expensive capital equipment to buy or lease. There is no need to check the concentration every few hours or to keep watch on a narrow temperature window. And since the ozone is produced from the water in the reservoir, it is significantly more efficient than methods that inject ozone gas into water.
Ozone is a naturally strong oxidant and sanitizer, it is 'generally recognized as safe' (GRAS) by the FDA and even approved for use on organic foods. The T – SB100 offers a water-based, chemical-free, 'green' alternative to harsh chemical sanitizers and deodorizers.
It is possible to have a chemically free home or office with just the tips and tricks listed above.  The last step is where the FreshStart Process comes in.  The FreshStart process can disinfect your home and remove odors while leaving a fresh clean scent.  The beauty of this process is that the only residue is water vapor.  Call URFresh about the FreshStart Process today.